How to Estimate Pasture Dry Matter
---
Grazing stick method


One feature of SWPG's grazing stick is to use the grid and dot counting method to determine the available dry matter in a pasture

How do I get a Grazing Stick?

SWPG Grazing Sticks are free, contact your

local Conservation District

or your local

Agricultural Service Center
---
Graziers Notebook and Pasture Stick
Southwest Project Grass publishes the graizers' notebook and the companion pasture stick. All information was obtained from current USDA/ARS research, extension publications and other public domain sources. The purpose of the handbook is to help the graizer, with the assistance of a pasture specialist, design and use a grazing system. Detailed information on topics like pasture allocation, body condition scoring, soil fertility, controlling nutrient losses, and biosecurity are included in the notebook along with space for record keeping for beef cattle, sheep, goats and horses.
SWPG Grazing Sticks are free, contact your
local Conservation District
or your local
Agricultural Service Center
---
Is my agricultural operation in compliance?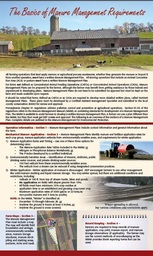 Manure management requirements
All farming operations that land apply manure or agricultural process wastewater, whether they generate the manure or import it from another operation,
must
have a written Manure Management Plan. All farming operations that include an Animal Concentration Area (ACA) or
pasture
must
have a written Manure Management Plan.
The Basics of Manure Management Requirements
- Penn State Extension
---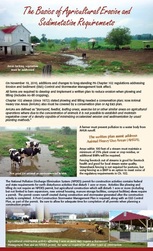 Agricultural Erosion and Sedimentation Requirements
On November 19, 2010, additions and changes to long-standing PA Chapter 102 regulations addressing Erosion and Sediment (E&S) Control and Stormwater Management took effect.
All farms are required to develop and implement a written plan to reduce erosion when plowing and tilling includes no-till cropping). Chapter 102 always (since 1972) stated plowing and tilling needed a conservation plan; now Animal Heavy Use Areas (AHUAs) also must be covered by a conservation plan or Ag E&S plan.
AHUAs are defined as "
Barnyard, feedlot, loafing areas, exercise lot or other similar areas on agricultural operations where due to the concentration of animals it is not possible to establish and maintain vegetative cover of a density capable of minimizing accelerated erosion and sedimentation by usual
planting methods.
"
The
Basics of Ag E&S requirements
- Penn State Extension
---
---
Pasture Planning Tool
The National Resource Conservation Service (NRCS) Pasture planning tool: A prescribed grazing system consists of properly managed stands of forage crops that are managed in such a way as to protect the natural resources. Stocking rates and grazing management are linked together to accomplish the objectives.
Prescribed grazing systems are a combination of practices installed and managed to protect the forage resources to reduce erosion, improve water quality and quantity, improve air quality, conserve energy, complement and/or improve wildlife habitat, and promote economic viability of producers.
Purpose of Tool:
This practice is to be applied as part of a conservation management system to maintain or improve the following:
Desired Species Composition and Vigor of Plant Communities
Quantity and Quality of Forage for Grazing and Browsing Animals' Health and Productivity
Surface and/or Subsurface Water Quality and Quantity
Riparian and Watershed Function
Accelerated Soil Erosion and Soil Condition
Quantity and Quality of Food and/or Cover Available for Wildlife
Fine Fuel Loads to Achieve Desired Conditions
For a copy of the Pasture Planning Tool, developed by NRCS contact us at email@swprojectgrass.com
---
Southwest Project Grass Library
Southwest project grass has a collection of books and videos on topics like Intensive grazing management, planning fences, cattle wintering sites, managing for diversity, and many more. Books, Audio tapes, VHS Tapes and Water systems are available for Loan to SWPG members.
View
SWPG's Items for Loan
list
To sign out a resource email us at
email@swprojectgrass.com
---
SWPG Mini-Grant
This mini-grant program is designed to provide conservation districts, grazing groups or sponsoring agencies within the Southwest Project Grass participating Counties with a source of funds to carry out an educational project on grazing.

SWPG Mini-Grant Application
---
Other Resources
Southwest Project Grass
Logo